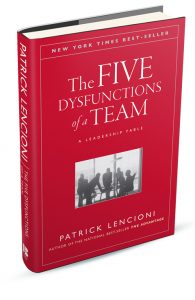 Creating a culture of teamwork is one of the greatest challenges organizations are facing.
The Five Behaviors™ is a program based on Patrick Lencioni's best-selling book, The Five Dysfunctions of a Team. The model in the book outlines the core behaviors – Trust, Conflict, Commitment, Accountability, and Results — of high-performing teams.
As an Authorized Partner, Bright Mango Consulting can help teams apply the Five Behaviors™ to drive team effectiveness and productivity. The program uses Everything DiSC®, a tool that helps build effective team communication and relationships, to help participants understand their individual DiSC® style and discover how each style brings value to the team.
Patrick Lencioni on Teamwork